Lest it all be forgotten – A digital ecosystem to retain information I otherwise would forget
I have been an avid collector of articles and information of all kinds since my childhood, keeping massive folders with neatly clipped newspaper reports, infographics, and journal articles on a wide range of topics I was interested in.
When I entered the digital age and dove into the depth of the Internet, I kept up with the habit of collecting, only that now I saved articles as Word or PDF files in nested folder structures. The difference between those folders and the childhood clippings was mainly the absence of glue in the former. The Windows explorer file was just a digital re-creation of a paper file cabinet.
Both systems also shared the same weaknesses: It was difficult to find a specific piece of information buried in the collection. This limited the usability of my compilation, especially given that I have the opposite of a photographic memory. Usually I am good at retaining big-picture information, but recalling specific details, like numbers or names, gives me a hard time.
In the age of the almighty cloud (privacy reminder: There is no cloud; it's just someone else's computer; I try to not use cloud services for overly private information.) and with a plethora of productivity apps at our fingertips, the possibilities to obtain information, slice and dice, and then store it in an orderly fashion have been increased exponentially.
The biggest productivity secret: Stick with what works for you!
By no means would I qualify as a "Techie". I get a new Windows notebook every three to four years and a new iPhone every second year, skipping the "S" years. I am not actively scanning new app releases, but whenever I stumble over a tool that looks promising, I download it and take a closer look. Often those apps are deleted as quickly as they were installed.
The abundance of productivity apps is a double-edged sword. It definitely has the potential to be a productivity trap by itself. While I enjoy trying a new app once in a while, I am pretty loyal to those services that work for me. Chasing constantly after another tool that does the job even better can be as destructive as chasing love by switching partners.
My own little system of interlinked apps grew over the past four years. I do not have an affiliation with any of the services mentioned in this article. Some of the apps I use as paid premium services; others I just use in the free basic version. In combination, these apps and services work me; that's why I wanted to write about it. However, there are thousands of alternatives on the market, and as eager as I am to tell you about my system, I would love to hear what you are using. The idea of life-sparring is all about the exchange of ideas, so please use the comment function or send me a message.
The core building blocks
Gmail
I don't have to say much about Gmail. Gmail is one of many good providers of free email addresses. One advantage of Gmail is, that due to its popularity, there are more tools available to connect your account with other services (for example, through IFTTT).
Inoreader
A long time before I started to blog myself, I enjoyed reading a whole range of different blogs. By far, the best way to keep track of different blogs or news providers and make sure to not miss any new article is using an RSS reader. I recently found Inoreader and instantly fell in love with it. Inoreader is cleanly designed and extremely powerful. Just put any website you want to follow into the search window and Inoreader shows all available feeds from the site. You subscribe to the ones you want, and from then on, you will get every new article delivered immediately once it is published. Just try it out with life-sparring.com and never miss a new sparring round.
Inoreader offers ample options to forward and share an article. I usually only skim articles on Inoreader. Whenever I find an article that I want to read completely, I use the in-built function to save it to my reading list at Pocket. There is also a recipe on IFTTT to connect Inoreader with Pocket. However, it did not work for me yet.
I can't praise Inoreader too much. It is really an awesome piece of software. I currently have a free basic account and mainly use the iPhone app.
Pocket
Pocket is essentially a list to save articles found on the web to access and read them later on multiple devices, offline or online. After being read, articles can be tagged and archived. Pretty maamuch every time I come across an article but do not immediately have the time to read it, I send it to Pocket.
Pocket is, in the meantime, well integrated into the Apple and Google ecosystem. Pretty much from everywhere you can save to Pocket. If you, for example, read an article that includes references, you can directly save those links to Pocket and read the referenced articles later.
With a pretty neat tool called P2K, you can also send articles to your Kindle, but more about that later.
Amazon Kindle
I am a late adopter of ebook reading. I only got my Kindle Paperwhite in early 2015, mainly because I ran out of storage space for additional books (a typical Hong Kong problem). I always loved the tactile aspects of physical books and have a huge collection of used books back in my parents' attic in Germany.
Anyhow, I am fully converted and love my Kindle. Love it for the instant availability of almost every book I want to read, for the possibility to finally mark and annotate directly while reading, and for the integration with the other blocks of my digital ecosystem.
I never really had the discipline to write summaries on books I read. It was just too troublesome to put the book to the side and write a note. On Kindle I just highlight passages that I want to keep and later transfer the "my clippings.txt" from the device to Evernote. Highlights of articles and PDFs cannot be reached via the Amazon cloud. The clipping file needs to be uploaded from the device via USB cable. One problem that I have not yet solved is the relatively strict character limit on articles.
Evernote
Evernote is the state-of-the-art version of my old clipping folder. In its core Evernote is an easy-to-use notepad that lets you compose notes with text, pictures, PDF documents, and more.
I use Evernote as my digital memory, keeping notes on everything I find worthy of remembering, using nested folders (called notebooks) and tags to sort the content. The in-built search system is excellent. In the premium version it also searches within PDF documents.
Evernote is incredibly well integrated into the digital world, checking, for example, your calendar to suggest a headline for your note. Several programs let you directly save to Evernote (for example, Inoreader). You can also forward emails to your own address at Evernote, use a web clipping plug-in to chrome to clip text fragments or full articles.
I use all three Evernote products, the web-based version (in case I have to access something from my work computer), the desktop version (on my private notebook), and the mobile app (in my case for iPhone). I am currently paying for an annual subscription to the premium service, setting me back just HK$ 358/US$ 46 per year.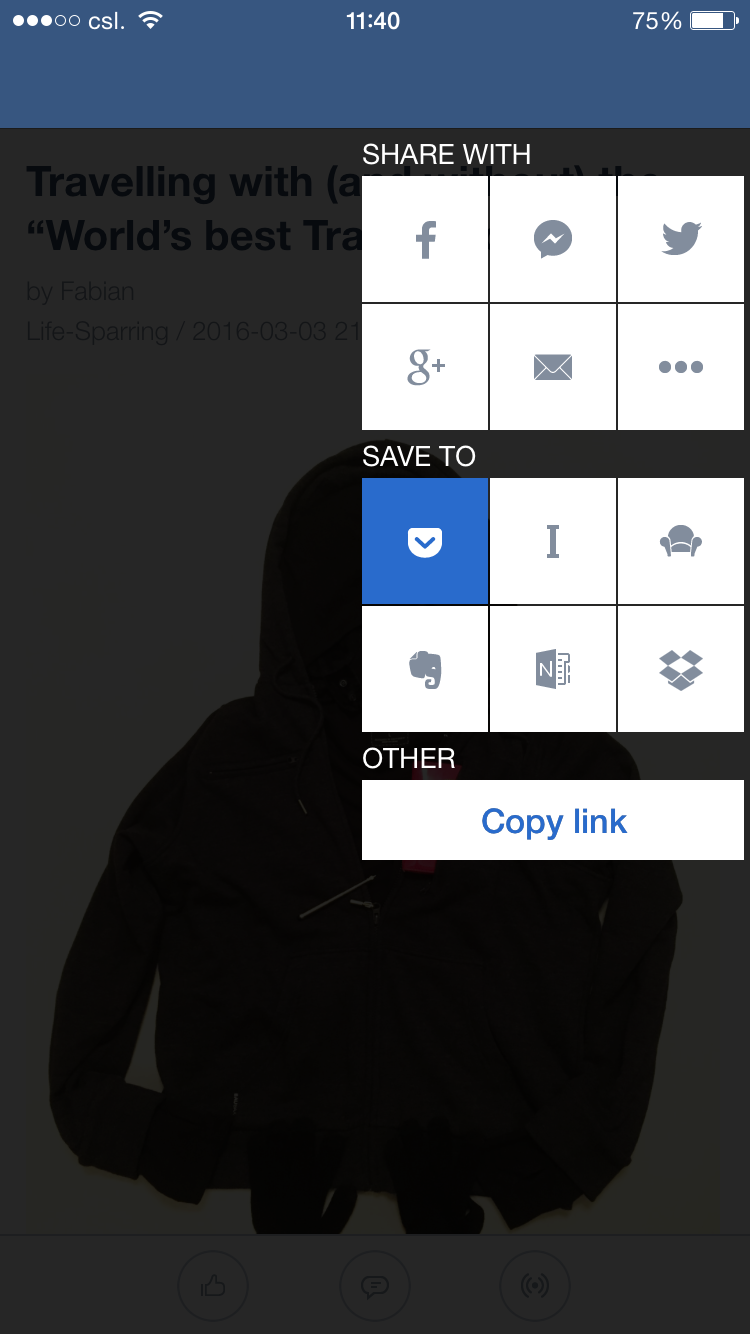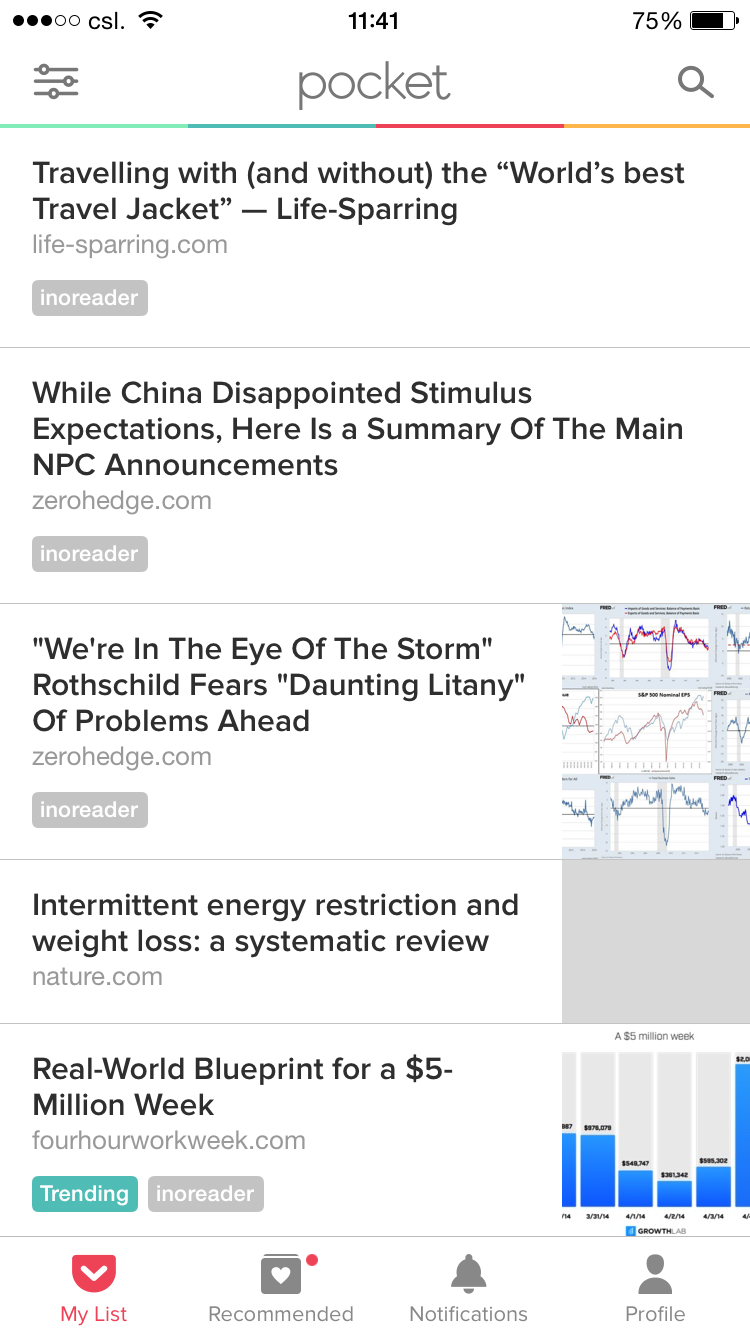 The connecting links:
IFTTT
IFTTT stands for "If This Then That" and is a web-based service that lets you create and run so-called recipes, triggering actions between different apps or services. One example would be a recipe like "If I am tagged in a photo on Facebook, save the photo to my Dropbox cloud storage account."
IFTTT can be extremely helpful if there is no in-built convenient way to connect two different apps. However, IFTTT recipes do not always work smoothly, they require a bit of trial and error. The service currently is free.
P2K
P2K is an exciting small tool that does precisely one single thing: pushes article collections from your Pocket reading list to your Kindle so that you can read them whenever and wherever you like. As Amazon is not particularly interested to integrate Kindle with apps like Pocket and Evernote, P2K is an awesome idea. I had P2K installed for quite a while, but sadly, it never worked. The software recently got a major overhaul and since then works like a charm. Every Friday I receive the last 10 articles from Pocket as weekend reading. Currently I only use the free version, mainly to see how much I use the service and test how stable it performs. The premium version demands a monthly minimum contribution of US$ 3.
Tying the Net – My digital information ecosystem
Putting it all together, the functionality looks like this:
Emails that reach me on Gmail are either kept in Gmail or mailed to Evernote to be turned into a permanent note. For emails containing a link to an article that I would like to read later, I am still trying to get an IFTTT recipe running that passes emails tagged with the tag RIL ("read it later") to Pocket. Emails that have PDFs attached I send directly via email to my Kindle.
Inoreader collects all articles from blogs and news services that I'm subscribed to. I browse through all unread articles whenever I have time and forward to Pocket what I want to read in a quiet hour. Smaller morsels of information I send directly to Evernote. For example, if the Dilbert cartoon of the day is especially hilarious.
Pocket is my reading list. Whenever I have time (for example, during my lunch break), I pick an article, read it, copy quotes or information to Evernote, then archive and tag it.
During travels or over the weekend, I read articles on my Kindle. Just like books, I annotate and highlight quotes or bits of information that I want to remember and send them via the "my clippings" file to Evernote.
Evernote serves as my digital memory. I store, categorize and tag all clippings, excerpts and infographics, to access them via multiple devices whenever I need to. An almost perfect solution for an information "hunter and gatherer" (or hoarder?).
What apps do you use to manage digital information? What are your best shortcuts and "hacks"? What are your favorite tools and why? Just use the comments to share your experience.